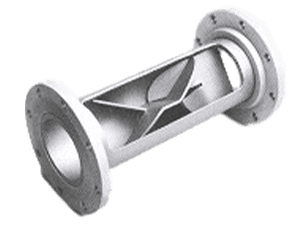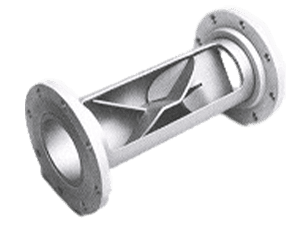 Komax | Custody Transfer Mixer
Komax Custody Transfer Mixer or CT mixer are installed upstream of the sampling point in a crude oil transfer line. They assure that the bottom sediment and water – B, S & W – is thoroughly dispersed throughout the crude oil stream. An even water droplet size and distribution occurs over a wide flow range. This means that the automatic sampler takes a truly representative sample.

Komax CT mixers are installed in petroleum product transfer lines such as ship and tank truck terminals or refinery transfers in combination with a LACT unit. CT mixers are supplied with weld neck flanges or ends prepared for welding. For ease of installation Komax CT mixers are supplied complete with two inch flanged port for the automatic sampler connection.
Request a Quote
Special features provide effective mixing.
- The Komax CT mixer was specially designed to solve conventional custody transfer mixing problems. The CT mixer may be installed in a horizontal or vertical pipeline. In a horizontal line, the first mixing element is set 30 degrees off the centerline so the bottom mixing element ear acts as a ramp, forcing the bottom water up into the crude (see Figures 1 and 2). The internal vortices or back-mixing created by the Komax mixing elements also rotate the blend backwards from wall to eliminates any wall streaming and produces a very uniform distribution and droplet size of the water in the crude.

- A very important feature of the Komax CT mixer is the addition of a special, last mixing element that cancels all of the axial rotation of the flow downstream of the mixer. Violent rotation of the stream would cause the centrifuging problem (barber poling) of the water to re-occur. The automatic sampler is located two to four pipe diameters downstream of the mixer. The resulting samples provide highly reliable net crude oil measurements.
Product details PDF
View
| | |
| --- | --- |
| Application | Water & Bottom Sediment Crude Oil Naptha Stabilized Condensate Demulsifier Bitumen Chemical rich amine Blending of Oil with Water and Bottom Sediments Blending of Naptha with Water and Bottom Sediments Combining of Bitumen with Water and Bottom Sediments Blending of Butane with Water and Bottom Sediments Blending of Ethane with Water and Bottom Sediments Combining of Condensate with Water and Bottom Sediments Blending of Emulsified Water and Oil With Demulsifier Chemical Dosing into a Hydrocarbo Stream Blending of Two Immiscible Products |
| | |
| --- | --- |
| END CONNECTIONS & AVAILABLE CUSTOM OPTIONS | Weld Neck Flanges: The Custody Transfer Static Mixer as a standard, comes with a flange with an extended hub for easy welding (butt welding) to the pipe it is connected to. Weld neck flanges can come with two types of faces: Raised Face (RF) or Ring Type Joint (RTJ). NPT Connections: The Custody Transfer Static Mixer can come with NPT ends rather than flanged connections if desired. Weld Prep Ends: It can come with butt weld ends for weld in installations or installations where custom connections are needed. Sampling Port: The Custody Transfer static mixer can come complete with a sampling port to connect a sample probe, densitometer, or viscosimeter. Sampling connections can be either flanged or with NPT connections, depending on customer specifications. |
| MATERIALS & SIZING | Diameter: ¾" – 48″ Standard Metals: Standard materials include Carbon Steel (all grades), Stainless Steel (all grades), Low Temp Carbon Steel/SA 333 GRD 6, & Killed Carbon Steel but can also be fabricated in exotic alloys such as Hastelloy, Inconel, Monel, Titanium, etc. Pipe Schedule: Pipe schedule is determined based on the customer specifications or design code specified. Komax assumes ASME B31.3 if no design code is specified. |
4.0
Based on 39 ratings
5
12
4
12
3
3
2
2
1
1
Rate & Review
5
Sweater is pretty great. I love the length and the fit and mostly I love how cozy it is. It keeps me warm, looks great and is soft and luxurious.
Sanjeev Garg | 27 Aug, 2021
4
I took a gamble on this sweater, amazon clothing seems to sometimes be way different quality than what's pictured but I was very happy when I received this sweater!
Sanjeev Garg | 27 Aug, 2021
5
his sweater is a bulky, fairly heavy winter sweater that will be awesome for the office or casual wear. The fabric is very silky soft. It's nice and snuggly! I can't wait for it to get cool enough to wear it!
Sanjeev Garg | 27 Aug, 2021